DMZ Fashion Month Round Up
DMZ Fashion Month Round Up 
Hey angels! With fashion month coming to an end we wanted to go through all of the amazing trends we saw at this seasons shows. We did some searching through all the best shows from New York, London, Milan and Paris for emerging trends, so here's your guide to shopping for S/S22 and how you can translate them into your everyday life. 
Pink, Pink and More Pink
One of the biggest trends to come out of fashion month this year is PINK.Seen in the collections of
Jacquemus 
and Valentino just to name a couple this trend has been popping up everywhere coming into the new season.  We always love a splash of pink at DMZ so it won't be hard to find a fuchsia moment on our site, but to pick just one we would have to recommend our stunning Kara two piece. This amazing fit is perfect for any occasion and will definitely be a staple piece for your summer wardrobe. If you're looking something in a more subtle pink try our Daphne dress in champagne.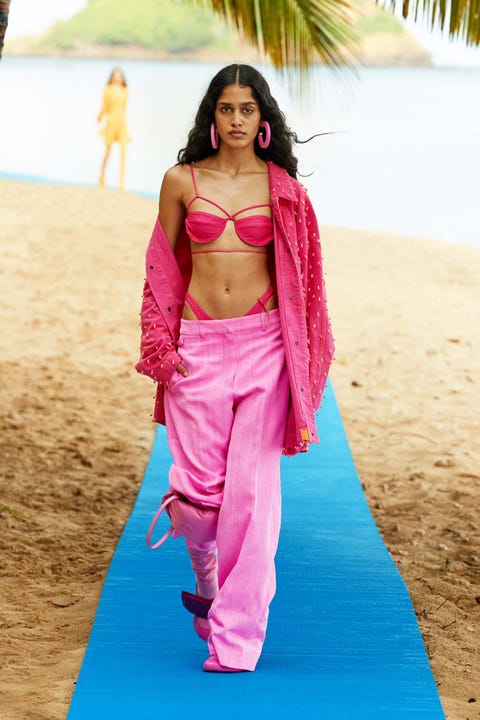 Jacquemus
Valentino 
.
Feathers 
A definite emerging trend for the coming seasons is feathers. We always love something a bit extra so we are so here for this trend. This trend was initially spotted in the collections of 
Elie Saab and Poster Girl, as well as being seen on the streets of fashion week. For a very DMZ take on this trend try our felicity sequin feather dress. For an even more extra looking style with a matching feather bag or shoes. For a different take on this trend try out our Just My Type feather two piece. This is a perfect piece for all seasons from winter nights out to summer parties. 
.
Diamanté Trim 
Another trend that we won't find hard to jump on is Diamante trims. We love to add a bit of extra glitz to all of our outfits so this trend is absolutely perfect for our DMZ angels. 
Diamante trims have 
appeared in the recent collections of 
Aadnevik and David Korma.For your own spin on this trend try out our Jessica dress. Or for a more subtle look try our Hearts Desire mini dress. This dress is a perfect take on this trend, in a comfortable jersey fabric Hearts Desire will be your glitzy summer go-to. 
For all these fits and much more click here xo